Happy Birthday, Diary!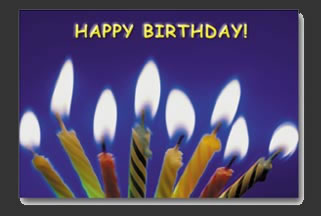 My (new) diary is celebrating its first birthday today.
In fact on 28th May 2003, I began writing down my thoughts, impressions and believes. The first post was written a few days before my second trip to Shanghai. After this entry my way brought me to different places in the world - in fact Shanghai, London and Milan - where I did make exciting living and working experience. Additionally I had the great asset to meet interesting people throughout different places on the globe who became part of my life and more important, friends in some ways. Indeed with most of them, I am still in contact today which is not always a given fact.
Things and my mind-set have changed tremendously. Especially I am proud of having found a person, who became the most important part in my life. I am thankful for having you next to me.
Anyways I have never forgotten my good old friends at home, who were always reachable whenever I needed their support or help.
Although I've been experienced different countries and cultures within the past year, my journey is not yet over.
All things considered, today, 365 days after my first diary entry, I am now just three weeks before my next stay in Hong Kong.....weird, isn't it!
Anyways, it's time to celebrate this moment :-)!
Posted by Claudio at
02:17 PM
|
Comments (2)