DTM race in Shanghai
Holy...my first weekend back in Shanghai and I recognized (by coincidence) that there was a DTM race going to take place in directly on the streets of Pudong, the financial district of Shanghai.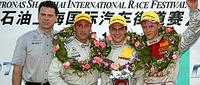 Well, thus on Sunday I took the subway to Dong Chang Lu (since Luzhiazhui station was closed due to the event) and began to walk along....there were many opportunities to get tickets for the two races which took place on Sunday....
After several negotiations I did buy a ticket for Grand stand 1, located on the start / finish line.
It was incredible sunny and hot yesterday. And when the first out of two races started at 1 pm, it was suddenly stopped again, after all cars left the first corner...why? there was one car (Mercedes) who seemed to have involved in a crash on the straight line (I didn't see anything because I was concentrated what was going on in the first corner). So they stopped the race and had to leverage the car out of the track....what followed was a 4 hour suspension while Chinese workers started to fix all approx. 70 manhole covers on the track since it was the reson for the Mercedes accident.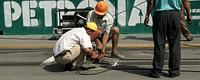 No wonder that due to this waiting I got sunburned in the end on legs, arms and on the face.
At 5 pm the race could restart and it was exciting to see those cars driving by, with Jean Alesi and H.H. Frentzen taking part as former Formula 1 drivers.
During the break I could get access in the pit stop area...when I did borrow a VIP pass from a Chinese guy, who was sitting on the stand next to me....exciting walking close to the cars and all Officials including drivers. In fact I was very close to Frentzen, Norbert Haug...uuuuuuhhh.
Unfortunately my digicam is still broken so I couldn't take pictures...thus I am showing you some pics which I found in the web.
Posted by Claudio at
03:23 AM
|
Comments (0)